'To him who has the Son, Scripture is an open book!'
(Martin Luther)*
'Mamzo' is the isiXhosa (one of South Africa's 11 languages) for 'Mum.' It's given to a dear and honoured Mum (or Gran), as with Mary, Mum of Jesus and his siblings. Mary would have fought tooth and nail against kind of veneration – she believed Yahweh alone deserved that honour. Yet Mamzo Mary teaches us much as Jesus' disciples (apprentices).
A young Jewish virgin between twelve and fifteen, Mary was engaged to a salted and respected Nazareth carpenter-builder, Joseph.
Luke, the physician-historian (1), gives us a glimpse of God's mighty intervention in young Mary's life through the angel Gabriel: "Confused and disturbed, Mary tried to think what the angel could mean. 'Don't be afraid, Mary… you have found favor with God! You will conceive and give birth to a son, and you will name him Jesus. He will be very great and will be called the Son of the Son of the Most High…'" (Lk. 1:26ff/NLT). Wow! These words vibrate with other-worldly majesty, mystery and purity. At the end of the exchange between Mary and Gabriel, she simply and remarkably responds, 'I am the Lord's servant. May everything you have said about me come true' (v. 38). Now put yourself in 'her sandals' for a moment, then accelerate to 2021 and Christendom's degeneration to 'what can you do for ME' instead of 'I am at YOUR disposal, my Lord and King!'
Next Luke records 'The Magnificat,' 'Mary's Song of Praise' (1:46-55). Obviously Mary had a poetic gift, inspired by God's Spirit – take a moment just to soak in her magnificent words (perhaps from a good Bible version/paraphrase you're not used to)…
All climaxes in the actual birth of Jesus (2:1ff), the angel of the Lord visiting the shepherds in the Bethlehem fields, the armies of heaven singing 'Glory to God in highest heaven,' followed by the shepherds' rushing off to see the baby (and afterward publishing their findings far and wide)… By sharp contrast, Mary 'kept all these things in her heart and thought about them often' (2:19/NLT). Or, 'Mary kept all these things to herself, holding them dear, deep within herself" (MSG). These words reveals a pensive, deep-thinking lass to say the least! You know, there are sometimes words and events, so sacred in our experience, that they compel us to silence and contemplation before sharing them with others. Today we're familiar with so many highly publicized, dramatic 'conversion-stories' of music and sports and movie celebrities, lasting just a few months or short years before their behaviour or words betray them. The 17th century French mystic Francois Fenelon said, 'When God deals with your old nature He heads straight for the center of all that you hold most dear. Allow Him to bring you the cross in the very center of who you are. Don't grumble and become agitated when the process starts: Silence and peace will help you much more than being upset.'
Some years later, following Joseph and Mary's 12 year old's staggering Passover dialogue with the temple leaders and his parents' frantic search for him, 'he returned to Nazareth with them and was obedient to them. And his mother stored all these things in her heart.' (2:41-52). 'His mother held all these things dearly, deep within herself.' (v. 51/MSG)
While, as far as we know, Mary didn't accompany Jesus on his missionary journeys (too busy serving the family?), she surely followed him in her daily thoughts and prayers. Notice e.g. Mary and Jesus' intimate, even playful interaction at a wedding feast in Cana (Jn. 2:1-11): Jesus is not being disrespectful when he addresses her as gunai, often rendered 'woman,' but saying something like 'Hold on, Mom dear…' When touring Israel, our Israeli guide described Mary's attitude as typical of a Jewish mom showing off her son, i.e. 'My son can do anything!' And he really could and did, turning water into sparkling wine, among many other greater things!
From the example of Mary, we learn 3 valuable lessons (the Good News is more corporate than individual):
1) The importance of Internalizing the Word. Mary from her childhood had learned to 'soak in' the Hebrew Scriptures. In my country, Afrikaners love to dip a rusk in coffee, soaking up the coffee and enjoying the softened rusk. This internalizing of the truth is threatened today by the horrific 24/7 bombardments of social media! Rose, one of our house church members, recently taught us how to engage in daily 'thought-prayers,' turning our meditations into short praises and petitions to God (2).
2) The importance of Externalizing the Word. Mary, from the beginning, probably unwittingly, became an evangelist of the Living Word. After all, her testimonies formed one of the key 'primary sources' of the evangelists. She spoke the Gospel in word and deed. Where are our gifted evangelists today, I often wonder?? (Eph. 4:11) And how urgently do we need every believer's life and way to speak of the magnificent Saviour in these days of ugliness, confusion and fear! Have we learned to put our 'lamp on a lamp-stand' for all the world to see, the shining the result of careful 'listening' to the Scriptures?? (cf. Lk. 8:16-18)
3) The importance of Serving the Word. Mary's whole life became one of humble and obedient servanthood to her son and Saviour (Lk. 2:46ff), including her fellow-followers and community. She's found at the Cross (Jn. 19:25), her second major bereavement, Joseph having died earlier. She's found in the assembly praying for the coming of the promised Spirit (Acts 1:12-14). Faithful to the very end.
By way of practical application, two lessons:
(a) 'Key' to the disciple's and ecclesia's life today is the attitude of our heart toward God. At all times it should be, 'God, be merciful to me, a sinner!' (Lk. 18:13-14/Parable of the Pharisee and Tax Collector). Do we reverence Jesus? How do we speak to/of him? Do we willingly submit all to his Person? The Wisdom writers advise us: 'Guard your heart, for it is the wellspring of life' (Prov. 4:23/NIV). Even better, "Keep your heart with all vigilance, for from it flows the springs of your life.' (NRSV).
(b) Believers, corporately and individually, learn to take time with the Word: as a run-of-the-mill believer, a particular verse/passage, illuminated by the Spirit, can charm me for weeks on end! After soaking it up, I usually share it with our house church for corporate enrichment. In this way God's Word sinks in so profoundly that it becomes part and parcel of our everyday life, whether we realize it or not.
FOOTNOTES:
* Cf. Quote from Rob Stroud's recent post 'Out of Context,' blogged under 'Mere Inkling Press.'
(1) To grasp the Evangelists' differing birth narratives, see Dr. Ian Paul's blog dated 15/12/21 under Psephizo and the article by James Bejon of Tyndale House. E.g. Matthew's narrative presents Jesus as a Moses-like leader, Luke's as a Samuel-like servant.
(2) With this insight, you'll read Jesus' renowned Parable of the Farmer Scattering Seed (Lk. 8:4-21) very differently, for it reveals degrees of 'hearing' (CS Lewis spoke of the simplicity yet complexity of the Christian message): the term 'listen/hear' is mentioned 6 times in the passage. When Mary and the family later ask for Jesus, who had been swamped by the crowds, he gave this unique definition of 'family' (not in a derogatory way): 'My mother and my brothers are all those who hear God's word and obey it.'
(3) Here in Mandela Bay, in the early 1990's, God through Pr. David Thomson of Argentina gave our metro pastors a city-wide vision of the Kingdom. After the talk, David challenged a core-group of leaders to remain behind, pleading with us not to talk about this revelation for a good number of months: sadly (I believe), we lost much of the impetus of that vision through some not taking that call seriously. [Ed Silvoso's 'Harvest Evangelism' & 'That None Should Perish' tell the transformation stories of Resistencia, San Nicolas and Mar del Plata in Argentina. For interest's sake, the vision had 5 critical paradigms: discipling nations; reclaiming the market-place; seeing work as worship; being salt and light; eliminating poverty]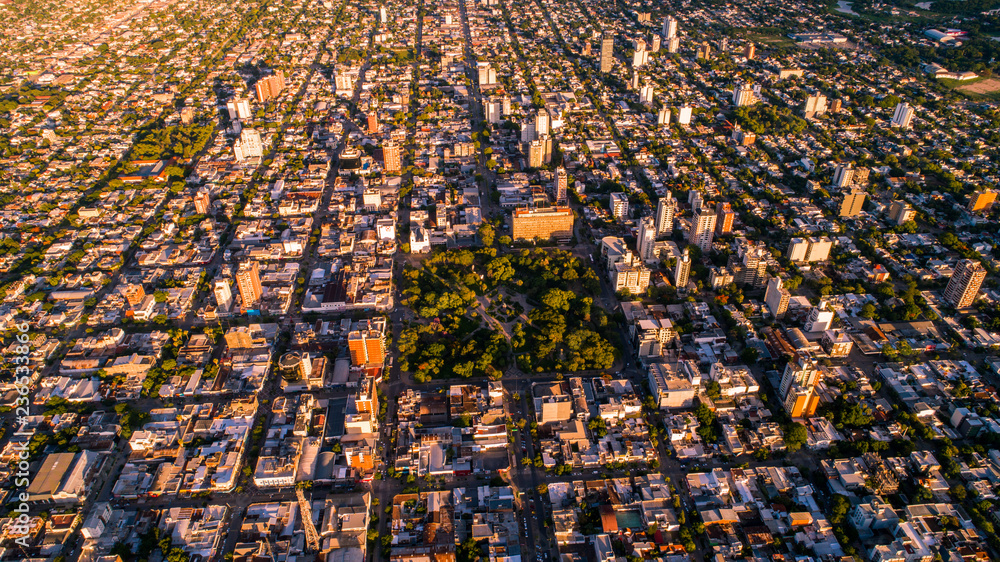 [Resistencia, Argentina]